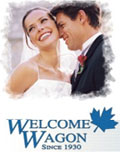 For all the future brides who plan to have their weddings in Kitchener, Ontario, mark your calendars for the Welcome Wagon Bridal Showcase this coming March 12, 2010. This exciting bi-annual event will be held at the Kitchener City Hall rotunda in downtown Kitchener from 1 pm to 4 pm.
According to Susan Casey of Welcome Wagon, the showcase will help future brides save both time and money. The event will give them the opportunity to meet all their wedding needs in one place and time, since some of the best wedding professionals in the Waterloo  area will be there to exhibit their services and products.
Susan said that the bridal showcase will have everything that a bride-to be needs: photographers, videographers, florist, bakers, travel agents, DJ's, caterers, and much more. Plus, there will also be freelance artisans who can craft one-of-a-kind designs for their wedding decorations and items.
Lots of freebies shall be given away. For the brides-to-be, excellent door prizes are up for grabs. This includes a honeymoon vacation and a grand door prize of a one-night stay in a luxury suit sponsored by Best Western St. Jacob Country Inn. There will also be a fashion show that will showcase the best designs of bridal gowns.
Admission is free; however, those who are interested to attend are encouraged to register early.
Posted in
2010 bridal gowns
,
Waterloo Region Wedding Events
,
Waterloo Region Wedding Planner
Tags:
Kitchener
,
Susan Casey